Smokey Eye Makeup
Tuesday February 19th 2013
The Smokey eye is such an amazing make up style and one of my favorites in history and one of the most requested at Lipstick and Curls.This technique, that has been constant throughout historical trends, still earns its place in modern day society as a classic adaptable look.

The Smokey eye became famous in the 1920's as women looked to the black and white movies in Hollywood for style inspiration. Make up used for the big screen was not only dramatic but also dense in colour and tone making the figure on the screen appears as if she had black eyes and black lips! Women of this time wore their eye make up as heavy as possible and used dark shadow around the eye either smudged, rubbed or smoked into it's fashion of the decade.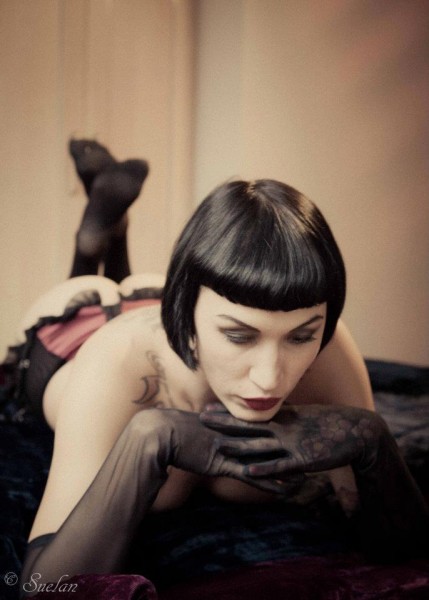 As time went on and more cosmetic products and tools became available, women were able to be a little more creative with their make up. The 1930's saw a mix of brown and grey shadows worn a little softer and more smoked giving them a closer appearance to what we are more familiar with today. As time progressed even more colours and tools were easily accessible however the techniques used in the earlier decades were not forgotten and women experimented with different ways of smoking the eye and the socket line. The 60's saw a great deal of very inventive versions of the Smokey eye!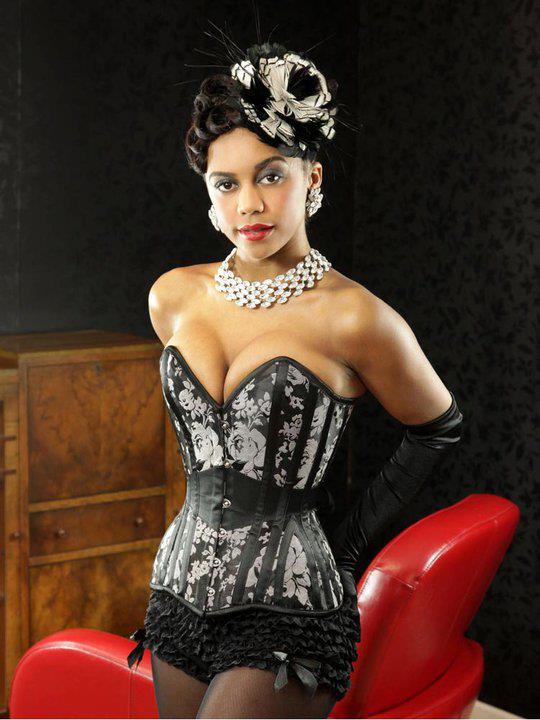 I think we are so fond of this classic use of shadow as it gives more intensity and definition to the eyes, a great sexy evening look and one I get asked for a lot. However this look can be tricky to achieve and most women find it difficult doing this on themselves as working with dark colours and using brushes can present numerous problems. With this party season almost upon us I wanted to share a few tricks of the trade and help you achieve this stunning season's 'must have' look!
a. Don't overwhelm yourself with products keep it simple. Two brushes only, a flat shadow to apply the product and a more fluffy soft dome style brush for blending. Two shadows are also ample, a light and a dark.
b. Choose a shadow for the smoke either a grey (which looks great with green or brown eyes or a dark brow which works really well with a blue eyes). Only go for black if you are very confident as this is the hardest shadow to work with and not advisable for beginners!
c. Sit in front of a mirror with your eyes OPEN. This is the best way to apply eye shadow. Never close your eyes as you loose control of the application and shape. You can use your finger to stretch the eye upward or even to the side so you can apply the shadow all the way to the lash line. Even raising your eyebrows is also a way of stretching out the eye naturally.
d. Firstly take a pale shade of shadow (champagne or cream works well, never white) and dust on the brow bone and under the brow. These do two things, it pulls the brow bone forward (bear in mind a Smokey eye is all about tone and shading) and also accentuates the socket line making it easier for the next application. Then dust of the shadow form the brush and apply the darker shade to the socket ONLY. Apply in a pressing motion NOT a swishing motion as particles will then drop and gather in place you don't want them too.
e. Once you are happy with the dense half moon shape you have created then take your blender brush. NEVER put this brush in a shadow, as it is there only to move around shadow that has already been applied. For this you must be looking straight ahead. An easy way to blend your line is to sit the brush in the socket line and just move it back and forward along the socket line, softening the line and blending slightly upwards into the first part of the brow bone. Once you are more confident you can apply small circular motions to soften the line this is a great way to create good strong blending with a shadow.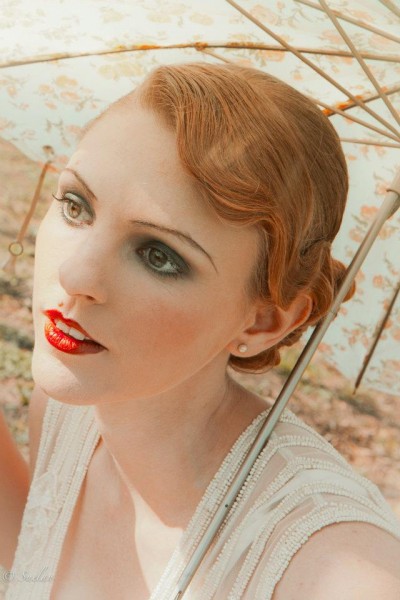 Continue to take your application brush and press in more shadow and then again use your other brush to blend. Take your time this look cannot be rushed and will benefit from not overloading the shadow.
Finally I think a good soft black pencil will finish of a Smokey eye perfectly. Apply a good amount both underneath and on top close to the lash line. Then take your blending brush, cotton bud or even your finger and soften using the same method as above the effect is amazing and voila you have achieved your desired look!
All images Hair & Makeup Lipstick and makeup Lipstick and Curls
Amanda x